已发布: 2021年3月19日
Air Quality is crucial for living and strongly influences human and animal well-being; however, we do not have any senses to directly detect whether air quality is good or bad. We only indirectly feel the consequences of bad air by getting a headache or getting sick. Modern electronic sensors can help us by providing reliable data about the air quality around us.
For our health, we need to know when it is a good time to open the window and let some fresh air into the room and when it is better to keep the windows closed due to poor air quality. High humidity may indicate an environment ripe for mold growth or simply be counterproductive to home laundry drying efforts. Even in refrigerators, knowing the air quality inside is beneficial, so you can quickly identify what is starting to spoil and remove it before contaminating other items in the refrigerator thereby preventing food waste.
Renesas offers a multi-purpose air quality sensor solution (Figure 1) to address the above scenarios and more. With this solution, you can evaluate Renesas' air quality sensors quickly and easily using your smartphone as a GUI. This solution also includes sensors for temperature, relative humidity and ambient light as well as an integrated Li-ion battery, Qi wireless charging, a water-protected housing for outdoor use and Bluetooth® 5 to communicate to a smartphone or tablet. Renesas provides the App free of charge on Google Play or the Apple App Store.
图像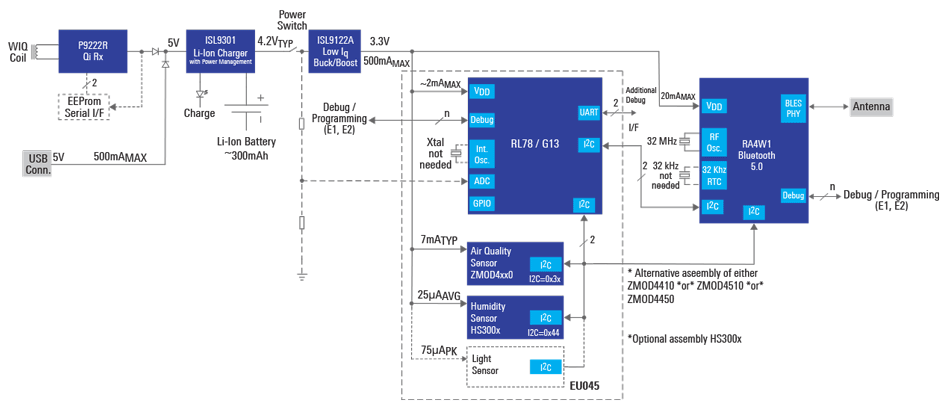 The multi-purpose air quality sensor solution is available for evaluation with three sensor types (Figure 2):
Outdoor air quality (OAQ) sensor solution: Y-EU045-GREENPUCK-1
Indoor air quality (IAQ) sensor solution: Y-EU045-BLUEPUCK-1
Refrigerator sensor solution: Y-EU045-YELLOWPUCK-1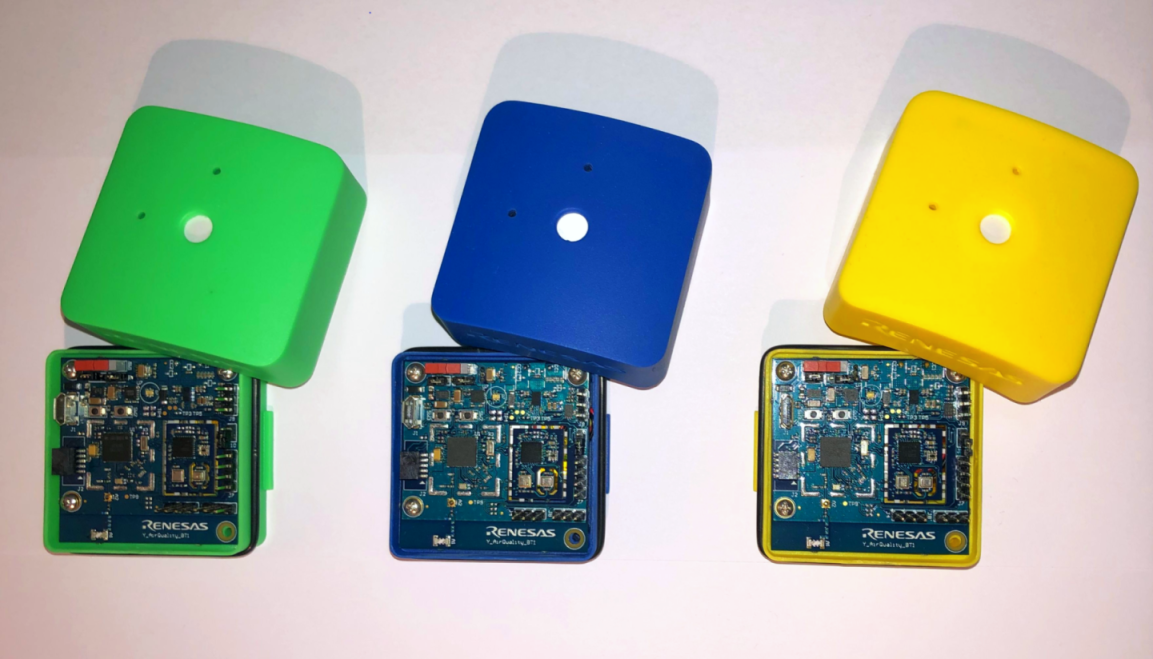 With these solutions, Renesas provides a cost-effective Bluetooth-enabled multi-purpose air quality sensor solution including complete hardware and software assistance to accelerate your development.
Renesas Part Numbers
Description
ZMOD4410 / ZMOD4510 / ZMOD4450
Indoor/Outdoor/Refrigerator air quality sensor
HS3001
Precise temperature and relative humidity sensor
ISL29020
Wide range ambient light sensor
RL78/G13
Lower power 16-bit MCU running Renesas e-AI algorithm for sensor evaluation

 

RA4W1
ARM® Cortex M4® MCU running

Bluetooth 5/2Mps mode (2x speed)
Bluetooth 5/LR mode (4x range)
Bluetooth 4 mode (works with older smartphones)

P9222-R
Qi standard wireless charging receiver,
works with almost any charging pad
ISL9301
Battery charge/discharge management IC
ISL9122A
DC/DC converter to get everything out of the battery
Check with your local Renesas sales representative to get a hands-on experience with air quality! More details can be found on the Multi-Purpose Air Quality Sensor Solution page.