已发布: 2020年11月10日
With the COVID-19 pandemic continuing globally through 2020, the need to move towards a contactless world has become highly critical for everyone's safety.
Human Machine Interface (HMI) with AI and wireless connectivity can be one of the solutions to help reduce human contact. Implementation of embedded vision processing remotely, generates useful filtered information to eliminate false alarms and reduces maintenance requirements locally.
Moreover, HMI with AI systems can be used widely, including surveillance cameras, door phones, inspection equipment, and a range of industrial and building automation and embedded vision systems.
Renesas has developed a complete system solution as per the SMARC standard to help speed up the development of HMI with AI applications. The Scalable HMI SMARC SoM (or System on Module) with AI solution is based on the Renesas powerful RZ/G2 microprocessor family and a variety of other Renesas products.
This system (Figure 1) follows the SMARC 2.0 standard and is designed in an 82*80mm form factor. SMARC SoMs are ideal building blocks for embedded systems, like Human Machine Interfaces for industrial and building automation or embedded vision applications. The Renesas SMARC 2.0 SoM includes a Linux operating system as well as a software library for AI applications like object detection. Renesas customers will have access to all the design files of the system. Alternatively, the SoM itself is available for purchase from the Renesas partner RelySys Tech.
图像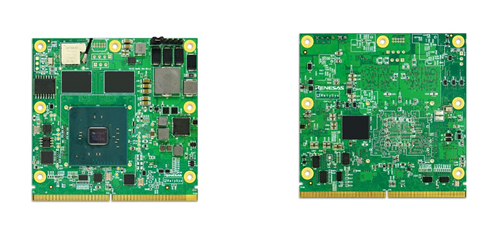 Figure 1. Front and back of the SoM board
The onboard RZ/G microprocessor is a highly integrated high-end MPU, with an on-chip 600MHz PowerVR 3D graphic acceleration engine, and 4k UHD H.265 and H.264 codecs capability. It has a built-in Error Correction Code (ECC) for internal and external memory, which is essential for high-reliability, mission-critical systems.
The MPU has a 64-bit architecture for faster, more efficient processing with Arm® Cortex®-A53 and Cortex®-A57 CPU cores. Renesas SMARC 2.0 SoM comes in three options, serving the need for different computing requirements:
RZ/G2N:

Dual-core Arm Cortex-A57 (1.5GHz) 

RZ/G2M:

Dual-core Arm Cortex-A57 (1.5GHz) 
Quad-core Arm Cortex-A53 (1.2GHz)

RZ/G2H:

Quad-core Arm Cortex-A57 (1.5GHz) 
Quad-core Arm Cortex-A53 (1.2GHz)
Multicore combinations allow scalability from low-end to high-end applications, delivering up to 35.6k DMIPS in a single package.
For connectivity, the SMARC 2.0 SoM supports dual-band Wi-Fi and Bluetooth® Low Energy (LE) v4.2 protocol for wireless communication. A variety of fast communication interfaces, such as LVDS, HDMI, CSI, I2S, PCIe, and Gigabit Ethernet are easily accessible through the SMARC 2.0 connector.
This solution is available with a large onboard memory of up to 4GB LPDDR4 RAM, which makes it ideal for video or graphics applications. For increased flexibility, the system allows booting from the onboard QSPI or eMMC flash memory.
The SMARC 2.0 SoM system also includes the Renesas ISL1208 low-power real-time clock for calendar-based applications and can easily be powered by a small 400nA battery or supercapacitor during the event of a power failure.
The system has a robust power design, which is realized with the Renesas power management IC P8330. This 7-channel device is multi-time-programmable with several protection features such as inrush current control, fault protection, and power fail interrupt.
The SMARC 2.0 SoM includes several onboard clock sources and is realized with the Renesas small form factor VersaClock 3S, a multi-channel programmable clock with 32.768kHz DCO integrated. The VersaClock 3S can be powered by a single coin cell battery. A PCIe clock is generated with the Renesas 9FG0641, which supports six 100MHz differential clock outputs and covers PCIe Gen 1 to 4.
For more information, visit the Renesas Scalable HMI SMARC SoM with AI Winning Combination page. 
For ordering information, please visit the RelySys Tech RZ/G2 SMARC SOM Module page.