已发布: 2022年2月18日
When you start designing your application with functional safety, who do you first approach? A Certification Body, an Independent Design House or an MCU vendor like Renesas?
Let us help you with this dilemma! You might not know this, but Renesas is not an ordinary semiconductor supplier. We offer full hardware-software solutions for functional safety compliant with the IEC 61508 standard. Functional safety is a critical consideration across most industrial automation equipment. It is also becoming increasingly important in numerous other applications, including service robotics, medical and building automation. These requirements are often complex and place an additional burden on overall development. In addition, many customers have limited experience with functional safety standards. 
The solution includes two basic solution blocks:
SIL3 certified software for RX and RA MCU families
Reference hardware solutions to facilitate development
These two blocks can be easily leveraged to build a dual MCU safety system to achieve SIL3 / HFT=1.
图像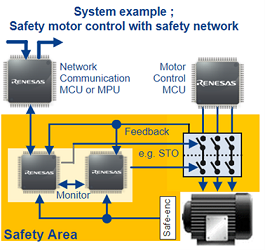 This safety area of the system shown above is monitoring the non-safety portion that is controlled by the Network MCU or MPU and Motor Control MCU. The two MCUs within the safety area also cross monitor each other. But the big question is the software. How do I architect the software for this safety-critical system? That's when Renesas SIL3 certified software makes life easy!
Our goal is to make it very simple for customers to get familiar with our solutions. Renesas experts help customers get to market faster by providing end-to-end support across the broad range of 32-bit MCU families, from concept to commercialization. Renesas offers comprehensive training and facilitates easy, complimentary evaluation of software solutions you can find on our dedicated Functional Safety solution page. During development, Renesas' certified solutions help accelerate customers' time to market and reduce total cost of ownership. Commercial licensing is available for certified software solutions and technical support is provided throughout the entire product development process.
Since 2020, Renesas' functional safety solutions have been well received by the market resulting in a significant increase in evaluation requests. Analyzing the data over the last two years provides very interesting insights.
Interest by Geography: 
We see interest globally, and while China, Germany, Japan, and the US lead the pack, we have recently seen a peak in interest from Eastern Europe. Our monthly downloads continue to rise at a steady pace consistently.
Interest by Application:
When looking at the application axis, the majority of inquiries we receive are either for Inverter or AC Servo. However, in the last year, the interest in Robotics, both Industrial and Collaborative, have picked up significantly, resulting in Robotics becoming the second most popular application in terms of new requests. Also noteworthy - because IEC 61508 safety standard covers E/E/PE* devices as well - we have also seen an increase in inquiries from medical, BMS, and applications in Process Automation as shown below:
The interest in and adoption of the IEC 61508 functional safety standard continues to grow. Functional safety is an important consideration in developing safe, competitive products. Renesas is here to help you through every step of your functional safety system development journey!
For more details regarding the announcement of SIL3 Certified Self-test Software for RA MCUs and SIL3 Certified PROFIsafe Application Software Kit for RX MCUs, visit here.
Accelerate your next functional safety design by registering for our complimentary evaluation version software solution today!
----------
*E/E/PE : Electrical / Electronic / Programmable Electronic