已发布: 2021年4月21日
Across the globe we are seeing greater demands for portable, reliable and long-lasting power tools. Two key factors accelerating demand are the growing global construction industry and widespread cordless power tool adoption. With some reports showing the power tool market growing from $29.5 Billion in 2020 to $36.9 Billion by 2025, at a CAGR of 4.6% from 2020 to 20251, this is a segment of business Renesas is ready to tackle.
Note 1: Source - https://www.marketsandmarkets.com/Market-Reports/power-tools-market-50744034.html
Cordless power tools include a wide range of battery-powered tools, such as hammer drills, impact wrenches and circular saws, as well as nailers and staplers. The demand for more mobile, flexible and compact tools is driving the market for cordless tools. Lithium-ion batteries are quickly replacing conventional nickel-cadmium (Ni-Cd) and nickel-metal hydride (Ni-MH) as a power source for these tools. As well, advances in battery technology are contributing to the increasing adoption of cordless power tools with high-density batteries that can last longer once charged.
The Portable Power Tools Winning Combination (Figure 1) from Renesas showcases the three main components of a portable power tool solution. This complete solution for portable power tools includes the Li-ion charger, battery pack and motor driver portions of the design. The battery pack supports up to 5 Li-ion or Li-Polymer battery cells in series with battery capacity measurement and programmable protection capability. The motor control IC helps realize system miniaturization and high motor drive efficiency.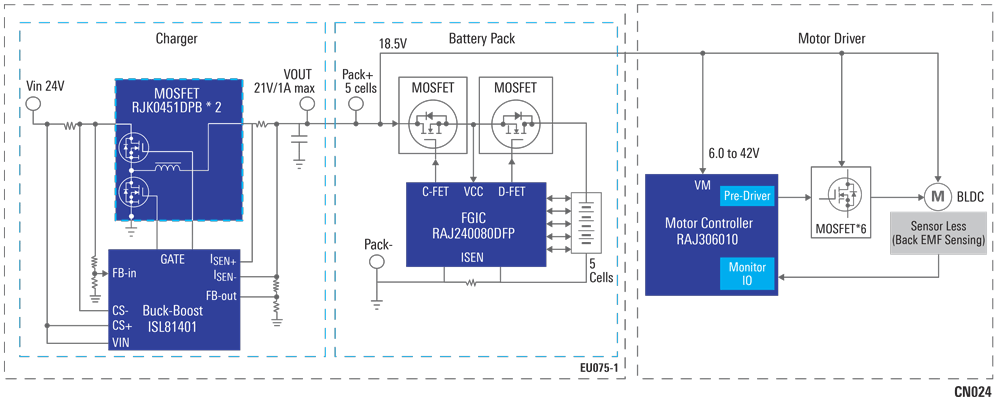 The Motor Driver consists primarily of the RAJ306010 motor control IC. The RAJ306010 is a general-purpose motor control IC for three-phase brushless DC (BLDC) motor applications. The RAJ306010 has a built-in MCU (RL78/G1F) and a pre-driver in a single package. The pre-driver includes 3 half-bridge gate drivers, 5V regulator, a current sense amplifier, hall IC inputs, back-EMF amplifier, and comparators, as well as various protection functions, all in order to simplify a BLDC motor design. While BLDC motors are more complex, you generally see greater power efficiency, less radiant heat and more torque in smaller sizes without compromising on either robustness or reliability. Not to mention there are no brushes to worry about replacing.
The Battery Pack and Charger portions contain the RAJ240080A20DFP Fuel Gauge IC (FGIC), the ISL81401 Buck-Boost and our RJK0451DPB MOSFETs. The RAJ240080 is Renesas' Li-ion battery FGIC which consists of an RL78 MCU device and an analog front end (AFE) device in a single package. The FGIC has control firmware stored in embedded flash memory to control attached embedded analog and digital circuits to execute battery voltage/current/temperature measurement, remaining capacity estimation, over current/voltage/temperature protection and other battery management operations. Our ISL81401 is a bidirectional constant current (CC) buck-boost controller that supports 4.5V to 40V input voltage range for buck, boost, buck-boost output with an output range from 0.8V to 40V. With small packaging, it is ideal for portable power tool applications. Finally, our RJK0451DPB 40V 35A 7mΩ N-ch Single Power MOSFET is a perfect complement to complete the charger portion of the design.
For more information on this or other Winning Combinations please visit us at www.renesas.com/win and see how we are helping our customers accelerate their designs and go to market faster!