已发布: 2020年9月26日
When there are more humans and machines working, communicating and operating simultaneously at high speed on the same manufacturing floor, more safety automation is required. The Functional Safety standard has been widely applied globally as de facto, growing at over CAGR 8% which is similar to whole industrial automation. Although the market slowed down due to the COVID-19 pandemic, the necessity for safer factory environment continues.
With experience in both sales and marketing for Industrial Automation, I will share the challenges that most customers are facing and the solutions in this blog.
What are your challenges?
Renesas has been in this field since 2014 and received tons of questions till today. Below are the most common comments I got from them. Some might be your déjà vu?
I don't know where to start!
I need a guidebook!

How to pass the certification?
Overview of the process and what document is needed. I have submitted tons of documents whenever requested by Certifier but did not know why and how those were used. How can I manage the asset when starting the next project without knowing what is required?

It's too much hassle to design the HW referring to the standard. No time to start from scratch!
Renesas will help you!
We all know IEC 61508, though to realize it in a real system is a challenge. Renesas has been releasing multiple certified software and compilers for MCU, verified boards for reference, and the guidebook for implementing IEC 61508. All these will help in shortening the certification process. Let's zoom into the benefits it brings.
No software development and certification paperwork on MCU are required, focus on your system development.
TÜV Rheinland Certified Self-test SW and SIL3 System SW provides all the diagnosis and safety task of MCU.
Easiest HW safety system development.
Reference hardware board, a verified board with a diagnosis and monitoring circuit required by the standard. This know-how packed board allows you to copy-and-paste to your own safety system.
Concept phase preparation is easier than before.
The reference document is the guidebook of IEC 61508 on getting certification. Also, refers to IEC 61800-5-2 (safety for motor) and IEC 13849 (safety for machinery) for safety applications e.g., Safety Drive, I/Os, and Networks. You'll get the template document for the Concept Phase so just add your product specification into the template, then boom! the documents for the concept phase are ready.
If you have the right deliverable at the right timing, certification is a smooth process and this is what Renesas solutions are for. 
Safety application use case
I would like to show you some application examples based on Renesas' solution for safe motor control of AC drives. The first figure shows the total system overview and the second figure is focused on safety motor control. Find more application examples in the white paper.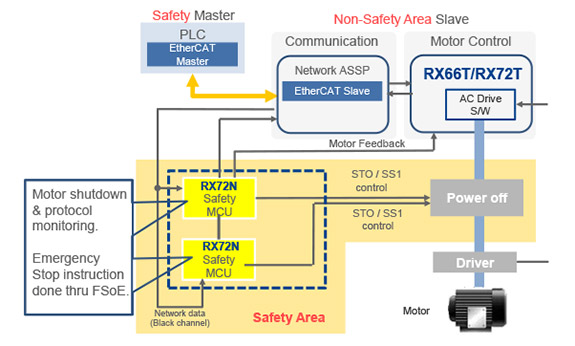 This safety system is realized by two Renesas MCUs, RX72N monitoring motor control device of RX66T/ RX72T. The RX72N functions as a safety MCU using certified safety software to proceed with two safety tasks.
Safe motor control (STO, SS1, SS2.)
Safe network communication by FSoE (Functional Safety over EtherCAT).
How it works - When an unsafe condition is recognized in the entire industrial system, such as abnormal motor behaviors, speed or an emergency stop signal is triggered by the safety sensor (Figure 1), the two safety MCUs will shut off the motor power so that system can move to a safe state. The safety PLC delivers the emergency stop signal from the safety sensor to the safety RX72N MCU (Figure 2) through the safety network of FSoE. The RX72N sends an instruction (SS1 control) to the PLC to stop the motor by gradually reducing the rotation speed of the motor. After the emergency stop signal was triggered for a certain period of time, the motor power is shut off and stopped (STO control) to put the system back in a safe state.
Real-life examples
Through my multiple years of experience to bring functional safety solutions to customers, I received much good feedback after adopting our solution.
The customer was struggling with the development for more than a year. Just as she is about to give up, I came in to introduce our safety solution. After using the Renesas safety solution and the resources we have in place to support her, she successfully got the certification. 
On another occasion, one director told me "Your certified software, tool, documents, and board make the development of functional safety with ease and fast release to the market." This is when I strongly felt this solution is for you.
For more information, please visit Renesas Industrial Functional Safety website or watch the webinar that guides you from the start to kick off your development. We are looking forward to chat with you.