已发布: 2022年3月25日
In 2020, a few weeks before COVID was recognized as a worldwide pandemic, 35% of US households owned at least one smart-home device. Ten months later, according to analyst firm NPD, that figure had risen to 50%.
Driven by pandemic restrictions that forced millions to stay at home, consumers clearly have shifted their focus to household projects, including deploying Internet of Things (IoT) devices.
Unfortunately for manufacturers, this increased consumer demand temporarily exceeded the available supply of the electronic components needed to build more and new smart home products. But the semiconductor supply chain will rebound and analysts project that the global market for IoT microcontrollers – the hardware most often embedded in smart-home systems -- will register a compound annual growth rate of more than 12% between now and 2030.
Making Up for Lost Time
Loathe to miss the booming market opportunity, manufacturers now are asking their product engineers to make up for lost time. They are leaning on engineers to quickly design and deliver new connected home appliances and small electronics products that integrate the IoT technology that consumers want.
Luckily for engineering departments everywhere, such a management request is no longer a Herculean task. Now there is Quick-Connect IoT, the modular, easy-to-deploy Internet of Things development platform from Renesas.
Less Complex Designs Get to Market Faster
As Brad Rex, our senior manager of the Systems and Solutions team, explains in this on-demand webinar, the Quick-Connect IoT system combines hardware and software building blocks that make product prototyping easy and really fast because of these key advantages:
The hardware is easily combined with the ability to daisy chain many different sensors and connectivity solutions, where in the past you might have been stuck with not enough ports or peripherals. On a dev kit, Quick-Connect IoT solves this problem with extendable hardware. The software libraries are part of our most common Integrated Development Environments and software workflows for our popular microcontroller and microprocessor families, making it easy to pull in the required software and function codes.
 
The hardware comes with all the necessary design files to get started. Software libraries are straightforward with real-world Application Programming Interfaces built on a common hardware abstraction layer. They can be used as-is or taken and pieced together for your specific application. Either way, you have full access to all the code and libraries that run the Quick-Connect engine.
 
Everything is modular, extensible and interchangeable. The original component you picked is overkill, and you want to try it on a reduced feature set device? No problem. The sensor hardware easily connects to many of our microprocessors (MPU) and microcontroller (MCU) kits. And the software will port over and look virtually identical at the API level. You can confidently mix and match even into the development stage because of the flexibility and commonality built into the Quick-Connect IoT platform.
 
Quick-Connect provides a host of new peripherals to sense things such as humidity, temperature and gases, to drive the connected hardware sensor modules.
 
Bluetooth Low Energy (LE), Wi-Fi and Bluetooth LE / Wi-Fi combo devices from Dialog Semiconductor (acquired by Renesas in 2021) allow you to easily connect your IoT system to a smartphone, existing Wi-Fi infrastructure and more.
图像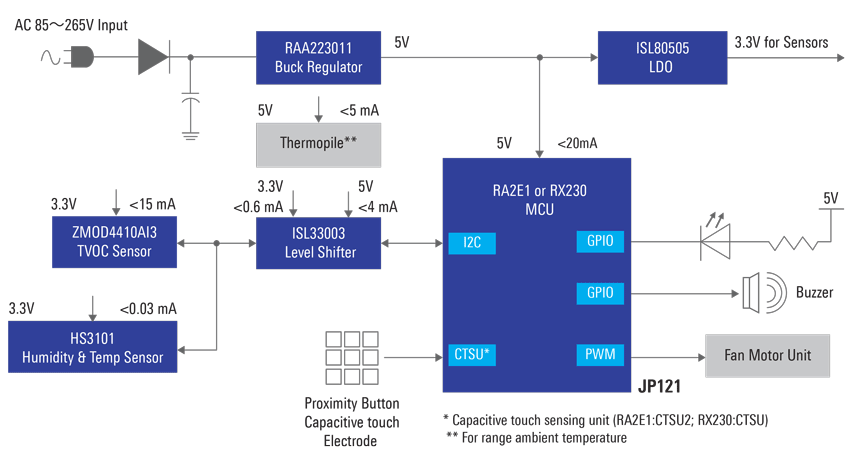 Don't Miss the Market Opportunity
The time is now to integrate Renesas MCUs, MPUs, sensors and connectivity solutions quickly and easily into your new smart-home designs with Quick-Connect IoT!
If you are an engineer developing a smart-home product, I invite you to visit renesas.com/quickconnect, where you can download resources to help you get started, including application notes for several home air-quality sensors and monitors, a smart range hood, and an odor detector for refrigeration systems. In the home-health category, we offer application examples of an intelligent pulse oximeter and a smart crutch, too.