已发布: 2021年5月18日
Power consumption, thermal design and board size are always development issues, as multimedia capabilities improve and product images become higher in resolution. To solve this problem, the board partners and the low-end RZ/G2E of the RZ/G2 microprocessors work together to offer a system-on-module (SoM) solution.
The RZ/G2E is an entry-level RZ/G2 microprocessor, but it is equipped with two Arm® Cortex®-A53s with Armv8-A architecture, similar to the higher-end devices RZ/G2H, RZ/G2M and RZ/G2N. It features a 3D graphics engine (PowerVR GE8300) and an H.264 codec which enables higher-end devices and multimedia features such as video playback. It is also equipped with peripheral functions such as USB 3.0, PCI-e and a camera input interface, which can deliver functions that add value to the customer's final product. While the RZ/G2E is not pin-compatible with higher-end devices, it does provide a very good balance between CPU performance and peripheral features, packed in a 21mm x 21mm package. The RZ/G2E is the first device to consider when considering improving the operability of a user interface (UI) previously built with a microcontroller (MCU).
On the other hand, while power consumption and thermal design will require attention as performance increases, the RZ/G2E can be implemented without a fan in most systems. This is very important because it reduces the bill of materials (BOM) costs across the system.
Our board partner ENGICAM offers i.Core RZ/G2E equipped with RZ/G2E. In order to save space, this board adopts the Small Outline Dual In-line Memory Module (SO-DIMM) standard that is widely used for memory modules. Coming in at about 68mm x 32mm, it has all the resources you will need to build your system, including the RZ/G2E, DDR3L memory, eMMC, SPI-NOR Flash, and GE PHY. In other words, just by using the Core RZ/G2E, you can avoid the man-hours of designing around complex DDR, along with the miniaturizing of the board, and you can easily take advantage of the rich features of the RZ/G2E. Learn more about the i.Core RZ/G2E.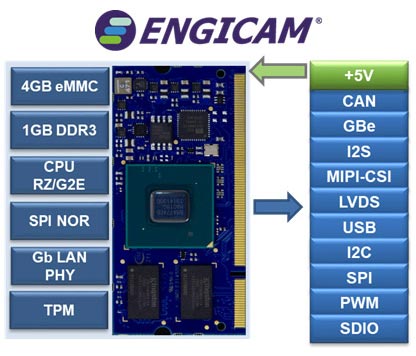 By simply supplying a 5V power supply to the motherboard design with a SO-DIMM slot and the connected i.core RZ/G2E, the customer can easily develop HMI devices with abundant peripheral functions such as Gb Ethernet, display, USB, and SDIO. This is expected to be a very effective solution for customers who are trying to step-up their MCU to an MPU in a short period to reach their goal, with the aim of improving the functionality of the final product.
Renesas is working with our partners to continue to provide more SoM solutions.
Learn more about the RZ/G2 microprocessors.