Wi-Fi 6E: The Big Deal About The New 6GHz Band
The new 6GHz band promises tremendous economic potential and will enable exciting new industry applications. For example, home networks will benefit from a high capacity, low latency backhaul pipe which will lead to new networking topologies and solution architectures, enhanced video and voice experience over Wi-Fi. AR/VR and multi-room gaming will benefit from the latency and capacity benefits of the 802.11ax technology and 5G will get a proper companionship solution for offloading (similar to current symbiosis of Wi-Fi and mobile) as well as 5G mm-wave backhauling solution.
This bird's-eye view of the available spectrum for Wi-Fi in Figure 1 displays the impact 6GHz will have on Wi-Fi systems:

Think about the opportunities Wi-Fi 6 will present to industries. It will be like adding a multi-lane super-highway parallel to a jammed two-lane road. Easily seen, the new 6GHz spectrum pretty much doubles the available channels for Wi-Fi technology. This is vital as Wi-Fi carries more than half of the global internet traffic today, powers IoT systems, enterprise networks and industrial networks and is the most successful technology invented to date. Considering these achievements were accomplished with only the 2.4GHz and 5GHz spectrums (the frequencies marked in orange in Figure 1) available for Wi-Fi technology, just imagine what will be achieved with 6GHz capabilities (the frequencies marked in blue in Figure 1).
Only the latest 802.11ax technology (a.k.a Wi-Fi 6E) or newer tech when it's available will be able to operate in this 6GHz band, such that only new fast and more efficient cars are allowed on this new super highway. This will lead to a better spectral efficiency and utilization of the new 6GHz band as 802.11ax technology enables far better coexistence schemes, traffic scheduling and higher performance in dense scenarios.
The legacy spectrums (2.4GHz and 5GHz) will be shared between Wi-Fi 6 and older technologies. This is especially relevant to the 2.4GHz spectrum that is heavily used not only by Wi-Fi but other technologies such as Bluetooth, Zigbee and DECT as well that cause network cross interferences.
The 5GHz spectrum is also shared with wireless sound systems, LTE-LAA and with radar systems (which derived the need for DFS regulation and spectrum sharing schemes). This is where the advanced coexistence, higher efficiency and spectrum sharing techniques of the newer technologies in the 6GHz band really make a difference.
Wi-Fi 6 Will Meet The New Demand
Wi-Fi 5 brilliantly fulfilled the "1Gbps" wireless service, complementing 1 Gbps access technologies and wired/LAN technologies. Now, with the growing number of connected devices and the need to drive multi gigabits (2.5, 5Gbps), a new level of Wi-Fi is needed. Wi-Fi 6, and especially Wi-Fi 6E at 6GHz with 160MHz, will not only meet the new demand, but exceed it.
There are multiple use-cases and scenarios benefitting from this new band, and we discuss a few of them on the What is Wi-Fi 6E page.
Here is a summary of some of the main use cases benefiting from Wi-Fi 6/6E and related product variants:
Use Case
Example Product Variant
Multi-Gigabit Wireless Network
(AP) Tri-band broadband gateway/AP (2.4 + 5 + 6GHz)
(AP) Tri-band mesh nodes
(AP) Tri-Band extenders
(Bridge/Link) multi-gigabit backhaul between a WAN modem (such as fiber or optic) and center of home location for main router
4K/8K Video to Multi-Screens
(AP) Tri-band multimedia gateway (may be part of broadband gateway)
(STA) Set-top box (switchable 2.4/5/6GHz)
(STA) Connected screen/TV (switchable 2.4/5/6GHz)
(Link) 6GHz video-link (video gateway to Set-top box/video bridge)
AR/VR and Gaming
(STA) Connected AR/RV goggles
(STA) Connected game control
IoT
(AP) Dual-band (2.4 + 5GHz) or Tri-Band (2.4 + 5 + 6GHz) IoT gateway
(STA) connected sensors/controls/things
5G Backhaul
(Link) 5G CPE (mm wave ODU) connecting to the indoor gateway over 6GHz Wi-Fi
Tri-Band Is The New Norm, and it's a Different Tri-Band
As displayed in the chart above, the new 6GHz band mandates a new type of access point infrastructure (AP) whether it's a bookend-type of application (e.g. bridge or backhaul link) or if it's an access type of application (e.g. enabling 6GHz capable clients to connect).
The new APs are expected to provide access connectivity at all the targeted bands concurrently. For example, in Wi-Fi 5, a concurrent dual-band AP was typically used to allow access to 2.4 and 5 GHz. Sometimes, a Tri-Band AP was needed to split the 5GHz spectrum to two parts each served by a dedicated Wi-Fi radio. But a Tri-Band of 2.4, 5 Low and 5 High came with many challenges. The solution costs were high and in terms of design there was a need for two independent and unsynchronized radios operating independently on adjacent frequencies. Without proper filtration, the two radio systems blocked and interfered with each other. The higher solution costs were accepted by the market only because such products were positioned as higher-performing and a higher product market positioning than the conventional dual-band APs.
Now, new APs aiming to support the promising 6GHz band must be designed to support all bands: the incumbent 2.4GHz and 5GHz bands and the new 6GHz band. Tri-Band (2.4 + 5 + 6GHz) will become the new norm, or the new entry-level for APs.
The different AP infrastructure types and their band support are illustrated in figure 2 below: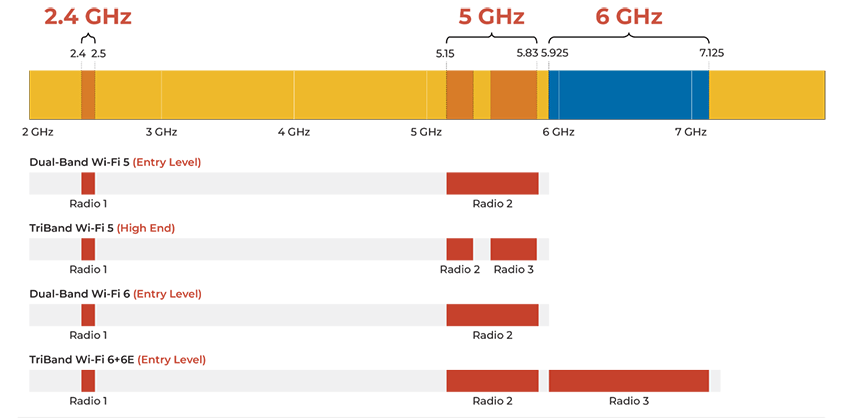 This raises a few very interesting points – commercial and technical. First, there is the importance of designing proper and cost-effective Tri-Band Wi-Fi 6 + 6E APs. These APs will be the main configuration/entry level access points for Wi-Fi 6 + 6E and their engineering requirements must be addressed.
A technical challenge of such Tri-Band APs is addressing the filtration required between the 5GHz and 6GHz radios. This issue is of such gravity, I will post a future article dedicated to this topic. Subscribe to get an email alert when the blog and article are published.
From a product positioning angle, as Tri-Band 6 + 6E becomes the new "Entry Level" AP Infrastructure type, another interesting question arises: Is there room for a higher-end AP or some killer feature or capability that can position one Tri-Band design higher than others? I have been thinking about this for quite a while now and wrote a blog about killer enhancements for Tri-Band 6 + 6E.
So Which Wi-Fi 6E Device Architectures Will There Be?
Granted, the client side is simpler because, conventionally, a client device is connected over a single band (some of the newer higher MIMO devices can split their radio to real-time-simultaneous multi band.) Adding the 6GHz band provides another RF band the radio could switch between as illustrated in Figure 3 below:

Most bandwidth-intensive devices (e.g. laptops, PCs, set-top box, TVs, high-end speakers) will likely adopt a 2x2 MIMO configuration. Entry level/lower bandwidth devices (e.g. IoT, lower-end speakers) can suffice with a 1x1 antenna configuration.
For APs, expect a higher diversity of configurations with various MIMO options. 4x4 seems to be the winning combination for cost and performance as it addresses 4.8Gbps PHY rate at 160MHz in the 5GHz and 6GHz radios and 1.2Gbps in the 2.4GHz, provide a sufficient configuration to leverage upon MU scenarios, while keeping design costs and form factor reasonable.
Thus, the likely configurations for Wi-Fi 6 Dual-Band and Wi-Fi 6 + 6E Tri-Band access points would be as follows in Figure 4: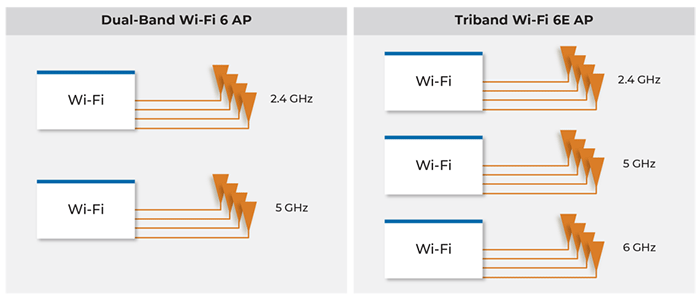 Figure 4 above illustrates the logical functions for a Dual-Band and a Tri-Band AP, granted there are innovative solutions from chip makers to enable implementation and design benefits of such products. For example Renesas' CL8080 product enables a Concurrent Dual-Band Wi-Fi 6 solution as illustrated above with a single chip. Renesas' CL8066 product complements the CL8080 for a concurrent Tri-Band solution with enhanced abilities and functionality with a 2 chip solution.
Suggestions and Recommendations for Wi-Fi 6E AP Architecture
I do not advise saving costs by aiming for a lower MIMO configuration on the 6GHz radio. Perhaps this was a good strategy for 2.4GHz and possibly even 5GHz, but the 6GHz is prone to larger path loss. Free space loss is a function of 20*log(f), thus higher frequencies decay faster, and obstruction-penetration losses for elements such as drywalls, brick walls, concrete, floors, etc. are also higher at the 6GHz band compared to 5GHz and 2.4GHz.
On the other hand, some would aim for competitive product differentiation and higher-end product positioning as opposed to focusing only on Tri-Band MIMO diversification. An exciting innovation for a Tri-Band Wi-Fi 6 + 6E AP is adding a listening radio function.
Conclusion
The great potential for innovation with the new 6GHz inspires us to think of countless realistic use-cases and benefits – from broadband access, to entertainment, enterprise, industrial and healthcare.
Wi-Fi 6 + 6E Tri-Band (2.4 + 5 + 6GHz) is very different from Wi-Fi 5 Tri-Band (2.4 + 5.Low + 5.High GHz). Wi-Fi 5 Tri-Band was driven mainly by capacity and higher product positioning needs while Wi-Fi 6 + 6E Tri-Band will be a requirement for all products to take advantage of all available spectrum.
Proper engineering of such Wi-Fi 6 + 6E Tri-Band APs in a commercial conscious fashion, while overcoming the technological challenge of filtration between the 5GHz and 6GHz bands is an acute factor in the enablement of the above use-cases to materialize.
The need for infrastructure products differentiation calls for innovation amongst the different Tri-Band products - from definition to implementation. Renesas' CL8000 family is designed to help vendors with both, unique tangible product differentiation, and implementation benefits based on its unique architecture.