已发布: 2022年7月11日
The global impact of COVID-19 has been unprecedented and staggering. The pandemic has driven the need for more factory automation control to limit human interactions, which in turn has been driving AC servo motor and AC servo control needs that have become the de facto techniques for designing automation control systems today. To get customers to market more quickly, Renesas has developed a high-performance solution for motor control with industrial networking and functional safety (FuSa) features (Figure 1).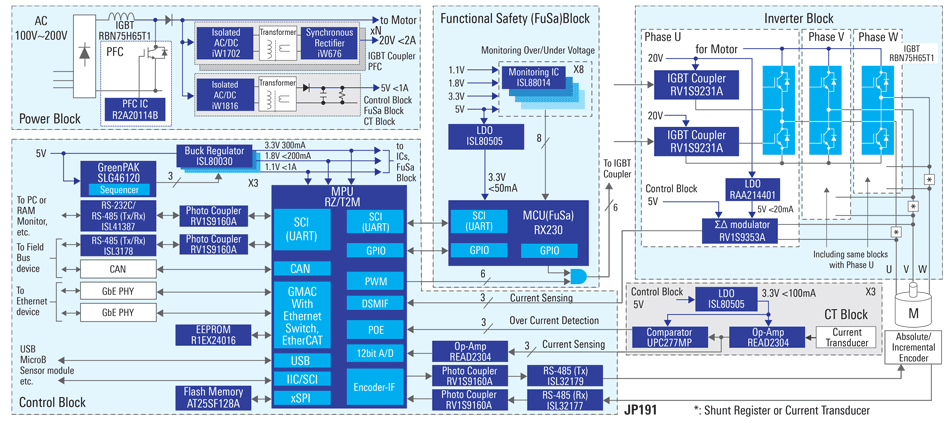 With Renesas' complementary product portfolios of Analog + Power + Embedded Processing + Connectivity working together, we deliver a total solution. The solution supports multi-protocols such as EtherCAT, PROFINET RT/IRT, EtherNet/IP, CC-Link IE Field Network Basic, TSN, etc. Taking advantage of the RZ/T2M high-performance multi-function MPU's dual CPU cores, ONLY one external MCU, the RX230, is needed to interface with the RZ/T2M for mutual monitoring of functional safety. High precision current sensing is enabled with the Renesas RV1S9353A delta-sigma (ΔΣ) modulator connecting to the RZ/T2M ΔΣ interface. With RS-485 connecting to a built-in encoder interface, it can support various encoders. With this design, Renesas offers over 70% of this solution's BOM, alleviating delivery concerns in sourcing from multiple vendors. Please contact Renesas Sales if you would like a demonstration of this solution.
Renesas also offers a compact and cost-effective AC Servo solution (Figure 2) for mass-market customers. By utilizing the RZ/T2M microprocessor's dual-core architecture, this monolithic solution design outperforms traditional two-chip platforms on performance and cost. The size of the main board, shown below, is 176mm x 100mm. The schematic, PCB data, application note, and software code are available. You are welcome to reach out to us for a demonstration board.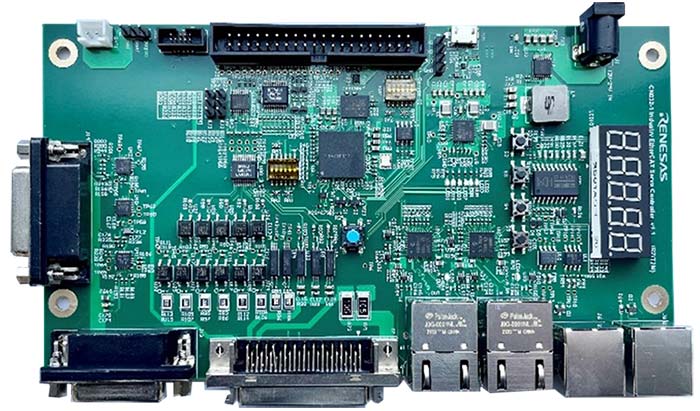 For more information on this and other winning combinations that can be used to help accelerate your designs to get to market faster, visit the winning combinations page at renesas.com/win.