已发布: 2020年10月24日
A small industrial robot is an automatically controlled, reprogrammable, multipurpose manipulator programmable in three or more axis. Typical applications of industrial robots include welding, painting, ironing, assembly, pick and place, palletizing, product inspection, and testing, all accomplished with high endurance, speed, and precision. In the context of general robotics, most types of industrial robots would fall into the category of robot arms.
Renesas' small industrial robot solution focuses on resolver motor control, which is high-precision (200,000 P/R) in harsh environments such as heat, dust, oil, vibration, etc. with low power consumption.
This solution combines a Resolver-to-Digital Converter (RDC) IC with the RX24T MCU supporting resolver sensors of both voltage detection type, and current detection type, enabling servo control of stepping motors with resolvers. Resolver sensor is the position sensor that detects the rotational position of the motor using electrical signals, a type of rotation angle sensor which is magnetic. Usually, it is used for controlling a drive motor of a hybrid vehicle or an electric vehicle or for a torque sensor in electric power steering. In this blog we are targeting the industrial application. This solution resolves the conventional problems of stepping motors (step-out, vibration, noise, heat generation). Renesas' innovative MCU driver software automatically corrects the resolver signal gain, phase and angle error to achieve high precision, contributing to excellent system cost and performance.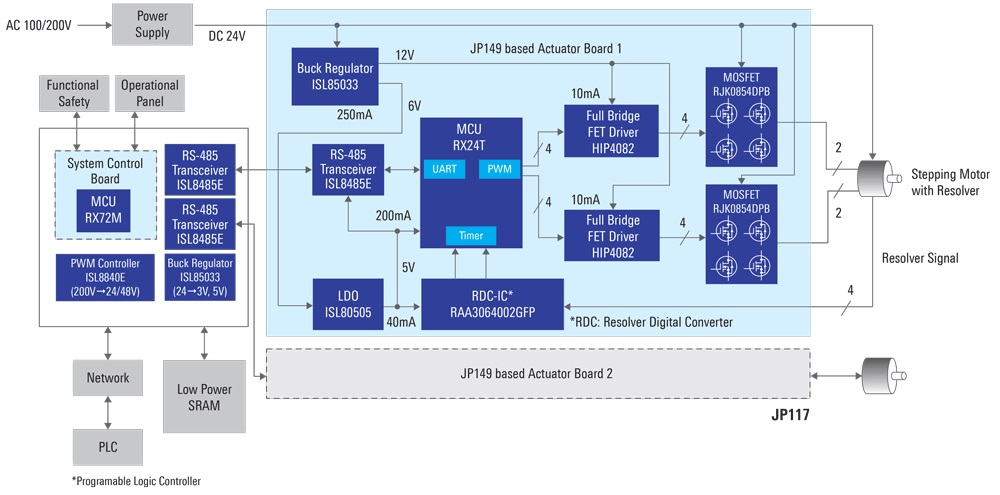 The HIP4082 is a medium frequency, medium voltage H-Bridge N-Channel MOSFET driver IC, specifically targeted for PWM motor control. The RJK0854DPB is the N-channel Single Power MOSFET, suitable for motor drive switching, high robustness, high-speed and low on-resistance.
The ISL85033 is a dual standard buck regulator capable of 3A per channel continuous output current. With an input range of 4.5V to 28V, it provides a high frequency power solution for a variety of point of load applications, which makes it ideal for small industrial robots. The ISL80505 is a single output Low Dropout voltage regulator (LDO), operating from input voltages of 1.8V to 6V. The output voltage can be programmed from 0.8V to 5.5V.
We use ISL8485E which is a ±15kV ESD protected, half duplex, 10Mbps RS-485 transceiver, to communicate between the actuator board and system control board.
On the system control board, we recommend our RX72M MCU with built-in EtherCAT® slave controller, RXv3 Core, and 240 MHz operation, which is suitable for industrial network solutions.
With this solution, Renesas provides engineers a high-precision and robust design for a small industrial robot.
Visit the winning combinations page to explore more solutions that help our customers accelerate their designs to get to market faster.